The Kohala Real Estate Update for October is for the majestic area located on the west coast of the Big Island of Hawaii. The Big Island received its name as to differentiate it between the State of Hawaii and the Island of Hawaii. The Kohala Coast is made up of two regions,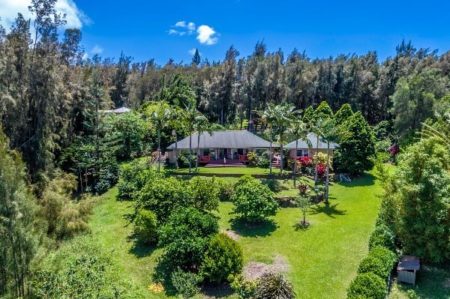 North Kohala and South Kohala, with North Kohala covering the more rural, northern end of the island, including the small towns of Hawi and Kapa'au, as well as the Kohala Ranch communities farther south.
South Kohala, which begins just south of Kohala Ranch, covers the world class resorts of Mauna Kea, Mauna Lani and Waikoloa Beach Resorts', the small town of Waikoloa Village, located 6 miles inland from the resorts and Waimea, the beautiful town in the interior Waimea Valley. You can find market updates for many of these areas by visiting the Market Update Page on my website.
View all Homes for Sale on the Kohala Coast. Instantly find out the value of your Kohala Coast Home. Discover how you can save $1000's with my Vacation Rental Management Program.
The number of single-family homes sold in October 2022 on the Kohala Coast decreased drastically from last October, with 19 homes selling this year, down from 30 homes last October.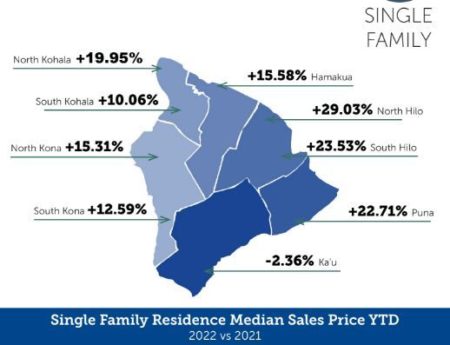 That decrease was felt in both South and North Kohala, with 15 single-family homes selling in South Kohala, down from 22 homes last year, and 4 homes selling in North Kohala, down from 8 homes last October. The condo market also experienced a drastic decrease, falling from 29 units sold in October 2021 to just 6 units this October.
Along with the decrease in monthly sales volume in October, the overall year-to-date sales volume on the Kohala Coast is also way down from the 2021 numbers. There have been 252 single-family homes sold this year-to-date, down from 356 homes sold by this time in 2021. The number of single-family homes sold in North Kohala went from 92 homes sold year-to-date last year to 63 homes this year, while South Kohala's sales volume of homes fell from 264 homes last year to 189 homes sold this year. Condos units sold year-to-date also had a steep decrease, falling to 239 units sold this year from 366 units sold in 2021.
Despite the decrease in sales, the median sales price this October over last year was up in all the markets except the condo number.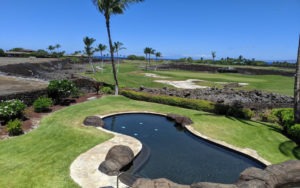 The median sale price in North Kohala experienced the largest increase, rising from $622,500 in October 2021 to $1,387,500 this October. The rise in the South Kohala median sales price in October was less dramatic, rising to $1,050,000 this year from $827,500 in October 2021. The condo market median sales price experienced the only drop, falling from $1,230,000 in October 2021 to $879,500 this year.
Although the monthly numbers of October's median sales price were a mixed bag, all market segments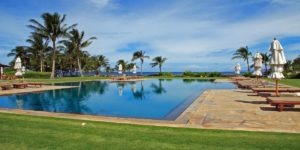 experienced impressive rises in their year-to-date numbers. Single-family homes in North Kohala saw the second largest increase in the year-to-date median sales price, rising 19.95% from $854,500 in 2021 to $1,025,000 this year, while the single-family homes in South Kohala rose a smaller 10.06%, from $825,500 in 2021 to $908,000 this year. The condo market experienced the largest increase in its year-to-date sales price, rising a whopping 38.46%, from $780,000 in 2021 to $1.080,000 this year.
Analysis: The Kohala Real Estate Update for October shows us that the monthly and year-to-date sale volumes for 2022 are far below those of 2021. We are still in a low inventory environment, and demand has fallen steeply, but sale prices, on the most part, continue to increase.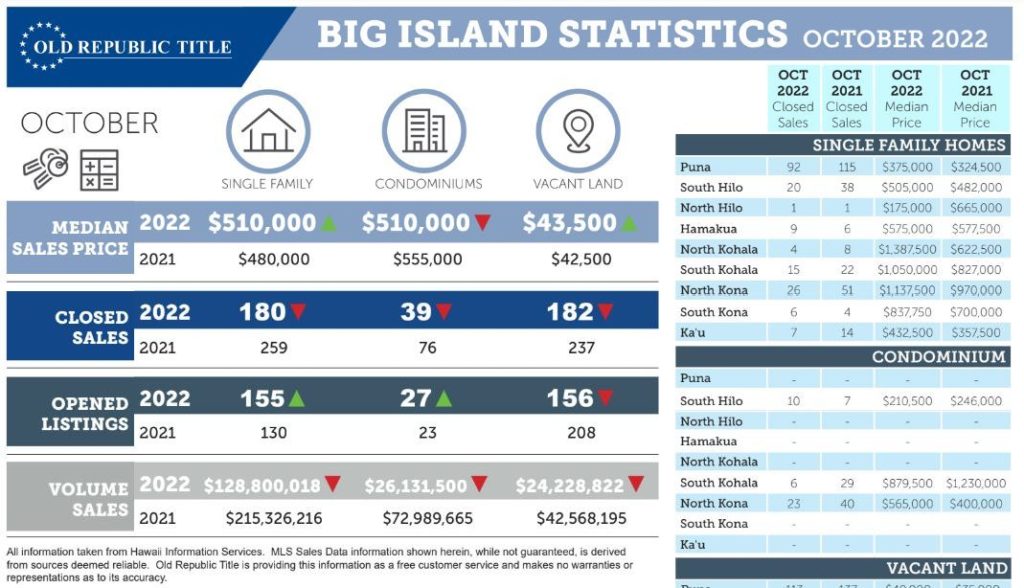 If you are thinking of buying or selling a home on the Kohala Coast, contact me today. I will produce a customized market report for the neighborhood or area you are interested in buying or selling in. Mahalo.
Kohala Real Estate Update for October 2022 Highlights
No. of single-family homes sold in North Kohala – 4
No. of single-family homes sold in South Kohala – 15
No. of condo units sold in Kohala – 6
YTD No. of single-family homes sold in North Kohala – 63
YTD No. of single-family homes sold in South Kohala – 189
YTD No. of condo units sold in Kohala – 252
Median sales price of a single-family home in North Kohala – $1,387,000
Median sales price of a single-family home in South Kohala – $1,050,000
Median sales price of a condo in Kohala – $879,000
YTD median sales price of a single-family home in North Kohala – $1,025,000
YTD median sales price of a single-family home in South Kohala – $908,000
YTD median sales price of a condo in Kohala – $1,080,000
If you enjoyed this update, you may like Mauna Lani Real Estate Update for Q3 2022. First published at www.ViewHawaiiLuxuryHomes.com/MarketUpdates